JVManager - Automate Your Online Business!
UPDATE 10/25/2010: The latest version of JVManager is now called Delavo. I have updated the links to go to the Delavo website.
TURBO Automate Your Online Business In JUST ONE CLICK So That You Can Focus On Your Wealth and Fortune - Get JVManager!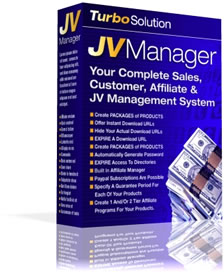 Have you been looking for a way to automate your sales processes on the Web?
Are you frustrated trying to get all of your scripts to work together just to do some seemingly simple - but crucial - tasks?
I recently set out to create a membership web site that will sell resale rights. It seemed like it ought to be a fairly simple, straight-forward task... Little did I know what I was in for!
I needed a system that could not only automate the sales process, but also handle recurring payments, membership management with instant access upon payment and instant deactivation of access on cancellation or nonpayment, and an affiliate program.
And of course it had to be able to work with my content management system so that I could provide all of the bells and whistles I wanted in the site itself!
I would have thought there would be a dozen systems or more to choose from... But do you know what I found out? They were all lousy in many ways! Oh sure, each did one or two functions great, but nothing quite put it all together.
I resigned myself to the fact I would probably have to get several scripts that were each good at one or two things to work together. I spent weeks trying to rewrite PHP or Perl code to try to make some scripts work with each other and with the PayPal IPN for recurring subscription payments. I reached dead-end after dead-end... Sure, I had some success, but it still wasn't good enough. Okay, I'll admit it - the whole experience was just short of an abject failure...
In one last search to try to find a better system at a reasonable price, I stumbled on the perfect solution: JVManager, from John Delavera!
If you've ever been looking for an automated system that does everything for you, simply and easily, this is it. JVManager is:
A complete Package and Product Manager
A complete e-Commerce System and Universal Payment Manager
A Download Manager and URL Protector (even for subscription membership sites)
A Sales Manager
A Refund Manager
A Joint Venture Manager
An Affiliate Manager
...AND MORE - All in 1!!!
It's true - JVManager is all that and more. Check out JVManager today - I highly recommend it!
Mike Adams
Webmaster for Timberway.com
P.S. The features above aren't even the tip of the iceberg! JVManager can set up more types of special offers, Joint Venture deals, affiliate offers, sales, etc. than you probably even know exist. JVManager is in a class by itself - I don't know of anything else that can do everything JVManager can do. As a matter of fact, I don't know any five pieces of software you could put together to do everything JVManager will do! This is an unbelievable piece of software. But don't tell John I said that - we don't want him to raise the price! - Mike